My compassionate psychic and mediumship readings will return clarity and comfort to your life so you can have the confidence to move forward and the strength in knowing your loved ones never die.
Ready to explore your own intuition? Learn more about my upcoming Mediumship and Psychic Development classes, practice circles, and workshops.
I travel the globe hosting Mediumship Demonstration events. They provide wonderful opportunities to experience the power of Mediumship within a group of people. Click the link below to reserve your seat at my next event.
WHAT TO EXPECT
YOUR FIRST READING
I am not your typical Psychic or Medium. In fact, many people are surprised I do this work when they meet me. I am very well-grounded and down to earth. I'm just not really a woo-woo type of person. This work is far too real for me to turn it into a show or performance. 
Join me either in person at The Karma Castle in Ormond Beach Florida, by Phone, or Online for a mediumship or psychic video reading where you will learn about your potentials and the things that may be blocking you from achieving the life of your dreams. We may also connect to your loved one(s) in The Spirit World.
Private Reading
A private reading can take place either in person at The Karma Castle, by Phone, or Online via a video session. I will connect with you to determine the greatest need of your soul, not your mind. This is the truest form of a reading.
House Party
Searching for a fun activity to do for your next house party? Contact me to set up a Mediumship House Party where I'll provide a Mediumship Demonstration for you and your guests right in your home.
Attend an Event
Mediumship Demonstrations bring forth messages and connections from your loved one(s) in The Spirit World. They are a wonderful opportunity to experience the power of Mediumship within a group of people.
Photo Reading
A photo reading is conducted after I receive a photo of your loved one in the Spirit World. I will sit with the photo and make a connection to your loved one then share any evidence or messages I could perceive for you.
Ask A Question
This is an opportunity to email me a psychic question. Your question can be as specific or as general as you wish, but must only pertain to you and your life, no-one else's. Your will receive an answer as a reply to your email.
Gift Certificates
Gift the experience of a reading with a gift certificate! They can be redeemed for a private reading session either one-on-one or for two family members wishing to connect to the same loved one in the Spirit World.
I truly wanted to connect with my Dad. Carl hit every nail on the head. I did not give him any information and the things that came up he had no way of knowing. He is the real deal. I received so much feedback that I truly needed.
Christine Weiss – Florida
Client Testimonial
Carl knew all of my innermost private struggles and fears, my bad habits as if he were a fly on the wall of my heart. If you are seeking answers or feeling a little lost please give him a try. It was an amazing experience!
Annie Crecelius – Oregon
Client Testimonial
I have never had an experience like that, I really could feel her there when you were talking. You pointed out things no one else would know and all of it was connected to her. I didn't know what to expect and wasn't even sure I wanted to go, but I am certainly glad that I did.
Sandy Clementi – California
Demonstration Event Testimonial
Carl leads us through really creative and fun exercises to truly awaken the innate skills we have. He is a caring, experienced, and an open mentor. He explains things clearly, guides us around pitfalls, and clears the way for our learning.
Jeanne Fleigle
Student Testimonial
Carl conducted our group with great guidance, information, and psychic exercises which expanded my abilities and knowledge. He has given me the tools needed to elevate my abilities. The Karma Castle's environment is warm, encouraging, and positive.
Donna Rizzardi
Student Testimonial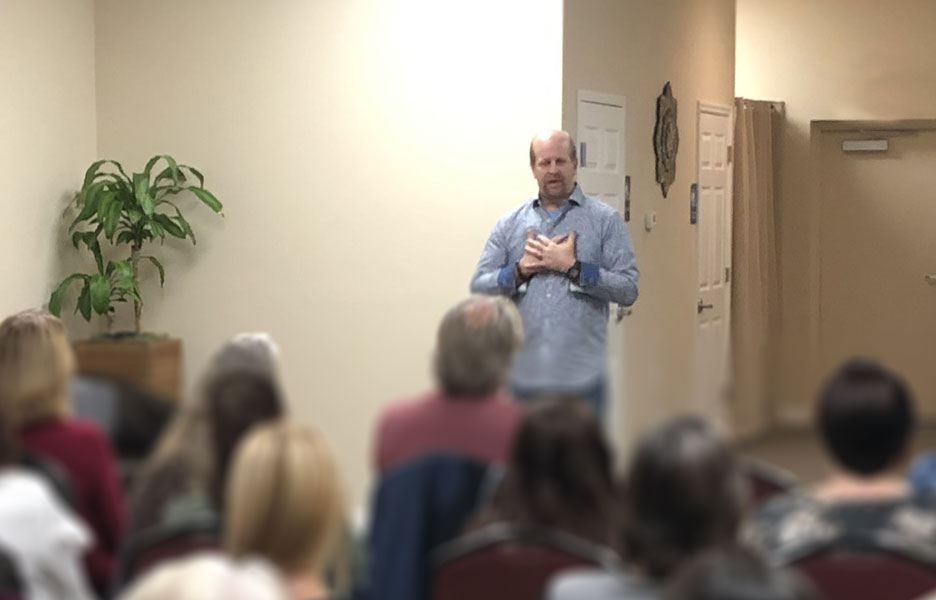 EXPLORE YOUR INTUITION
PSYCHIC + MEDIUMSHIP DEVELOPMENT CLASSES
Join us at The Karma Castle, in Ormond Beach FL, and online for Psychic or Mediumship classes and workshops! Each class is designed to enhance and heighten your innate abilities. Class subjects include, but are not limited to Elevating and Evolving Your Mediumship, Increasing Your Psychic Awareness, and Guided Meditations. I also offer Intensive Mediumship Workshops along with Weekly Development & Practice Circles.